Bitsgap is a cryptocurrency trading platform that offers fully automated bots and live account results, allowing traders to verify the performance of systems. It supports multiple exchanges like Poloniex, Binance, etc., integrated under one interface. This review will describe the key characteristics, profitability, registration process, pricing/fees, and pros/cons of the system.
Bitsgap detailed analysis
Bitsgap is a multi-exchange platform that offers users several trading algorithms like spot, grid, buy the dip, scalper, flat and custom bots. The portfolio shows extensive information about the funds and profits. Traders can configure their systems as they like with various strategies.
How Bitsgap works
The platform supports two types of bots, i.e., grid and futures. Custom robots allow users to configure its parameters like base currency and a number of grids positions.

Registration process
Traders can start trading with Bitsgap in the following steps:
Go to the Bitsgap website
Signup on to the platform with your email and password
Verify your email address
Use the free demo or buy the subscription plan
Link API keys with exchange and choose a strategy
Start trading cryptocurrency
Is it easy to use?
Bitsgap is a beginner-friendly platform with an intuitive interface including all the tools required to profit. They can be used without any experience as they offer high-quality knowledge base documentation with tutorials that explain all its features.
Bitsgap key highlights
Some of the key aspects of Bitsgap include:
Bitsgap account is funded with simulated demo money for testing strategies and gaining trading experience.
The portfolio shows the trading performance of coins from all exchanges in one dashboard.
It has a trading terminal that shows vital information about cryptocurrencies.
Traders can use it on multiple exchanges.
Services offered by Bitsgap
Bitsgap offers various services to maximize traders' profits. A 7-day free trial is offered for investors to test their bots and analyze the market. The demo account is funded with 1BTC and 10,000 USDT virtual funds for practicing. Several algorithms with preset settings are ready to use, which helps beginners to start trading in minutes.
Are traders satisfied with the trading performance of Bitsgap?
TrustPilot shows 399 customer reviews with an excellent rating of 4.6/5. A user wrote that Bitsgap has a professional team and is pleased with the support.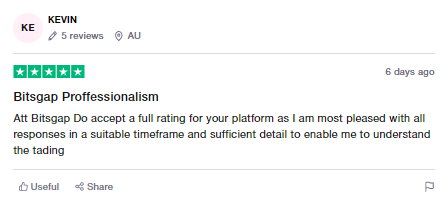 Does it have a native token?
Bitsgap does not have a native token but allows traders to access over 1800+ cryptocurrencies on numerous supported exchanges. Some of them include BTC, USDT, ETH, etc.
Bitsgap user interface
The user interface is simple and comes with all the information required to operate the platform. Tutorials are available for new users to help them learn faster.
Is it a good bet for its price?
Bitsgap includes three monthly packages for $29/$69/$149. Every plan has automated trading bots and unlimited smart orders with grid bots. The prices are not high compared to other similar platforms in the market. They offer extra tools such as futures bots, trailing stop losses, etc, which many exchanges lack, and there are no hidden fees.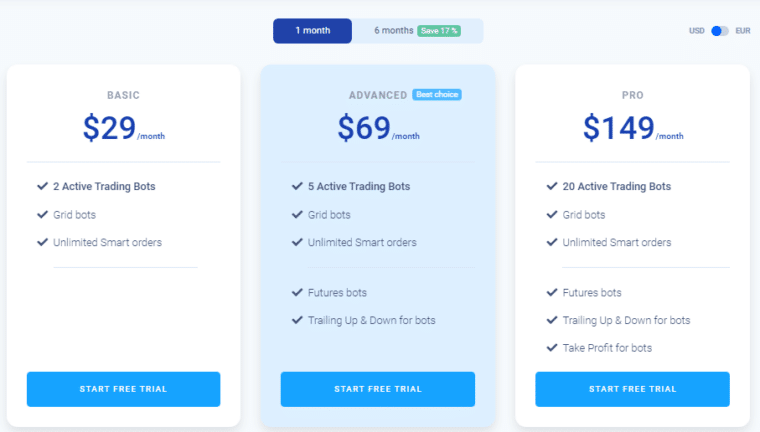 What exchanges does it support?
Bitsgap offers multiple exchange support; some of them are named below:
Binance
Kucoin
Bittrex
Poloniex
Coinbase pro
Huobi
Gate.io
Gemini
Bitsgap trading assets
As mentioned before traders can access multiple cryptocurrency pairs by connecting their grid bot with the respective exchanges. There are over 1800 pairs in support.
Are there any fees?
There are no hidden fees on transactions, deposits, or withdrawals. Traders only need to pay the monthly subscription charges.
Withdrawal process
Bitsgap they do not use API keys with withdrawal permission for the safety of investments. This ensures that investors' funds are kept safe within their brokers.
Bitsgap: is it legit?
Bitsgap is a legit software with positive customer feedback on a trusted website like TrustPilot. Details on funds' safety and vendor transparency show that it is an authentic platform.
What kind of security does Bitsgap offer?
Bitsgap promises high-level safety with its advanced 2048-bit encrypted servers and uses 2FA as an extra layer of security. It cannot access the trader's funds; all the investments are kept in exchanges connected with API keys. The positive reviews on Trustpilot show that traders are content with their services.
Is Bitsgap regulated?
As Bitsgap is an automated crypto trading platform that is cmpletely secure to use. The information that is delivered to Bitsgap's servers is encrypted with 2048-bit standard protocols. Additionally, the data is stored on a secure network. The system also provide a 2FA as an extra layer of security.
Best recommended for: beginners and professionals
There are numerous features and tools accessible for both novice and experienced traders. Bitsgap has an intuitive and optimized interface that includes all useful trading instruments with built-in bots and comprehensive trading data.
Bitsgap customer support
Traders can contact customer service via live chat or email for assistance. A user community exists on several social networking platforms such as Facebook, Twitter, LinkedIn, and Telegram.
How does Bitsgap's reputation look?
Bitsgap's headquarters are in Tallinn, Estonia. Maxim Kalmykow leads a development team that includes Dmitri Laush as Chief Strategist, Sergei Verbitski as COO, and Jevgeni Avdeev as CTO.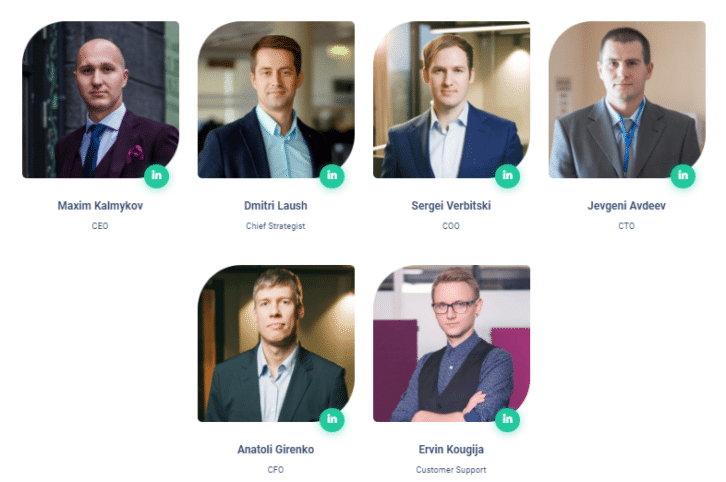 Bitsgap crypto bot
Bitsgap
Bitsgap is a safe and legit platform with useful features like a portfolio and automated trading bots. They have excellent feedback from users on TrustPilot. The security of funds is of high quality, and the product's pricing is better for the offered tools.
Bitsgap is a safe and legit platform with useful features like a portfolio and automated trading bots. They have excellent feedback from users on TrustPilot. The security of funds is of high quality, and the product's pricing is better for the offered tools.
The Good
They offer a free trial to users for a trading experience
The bots are easy to set up with custom settings
The subscription plans are low-cost with no fees
The Bad
Bitsgap does not offer a refund
The withdrawal method is not mentioned