Hot Profit Robot is an expert advisor that runs a real account and has quite a short presentation. The system is available only for subscriptions.
What is Hot Profit Robot?
The system is a trading solution that should have made profits on Forex, but this didn't happen. Now, the EA is a scam feature that should be avoided.
Official Hot Profit Robot website
The website looks like a scam. The main reason is that the developers didn't want us to give any extra knowledge or explain features. We don't know for sure how the system works. We have to guess much to create a vision.
How can we use Hot Profit Robot?
The main statements were placed in five blocks.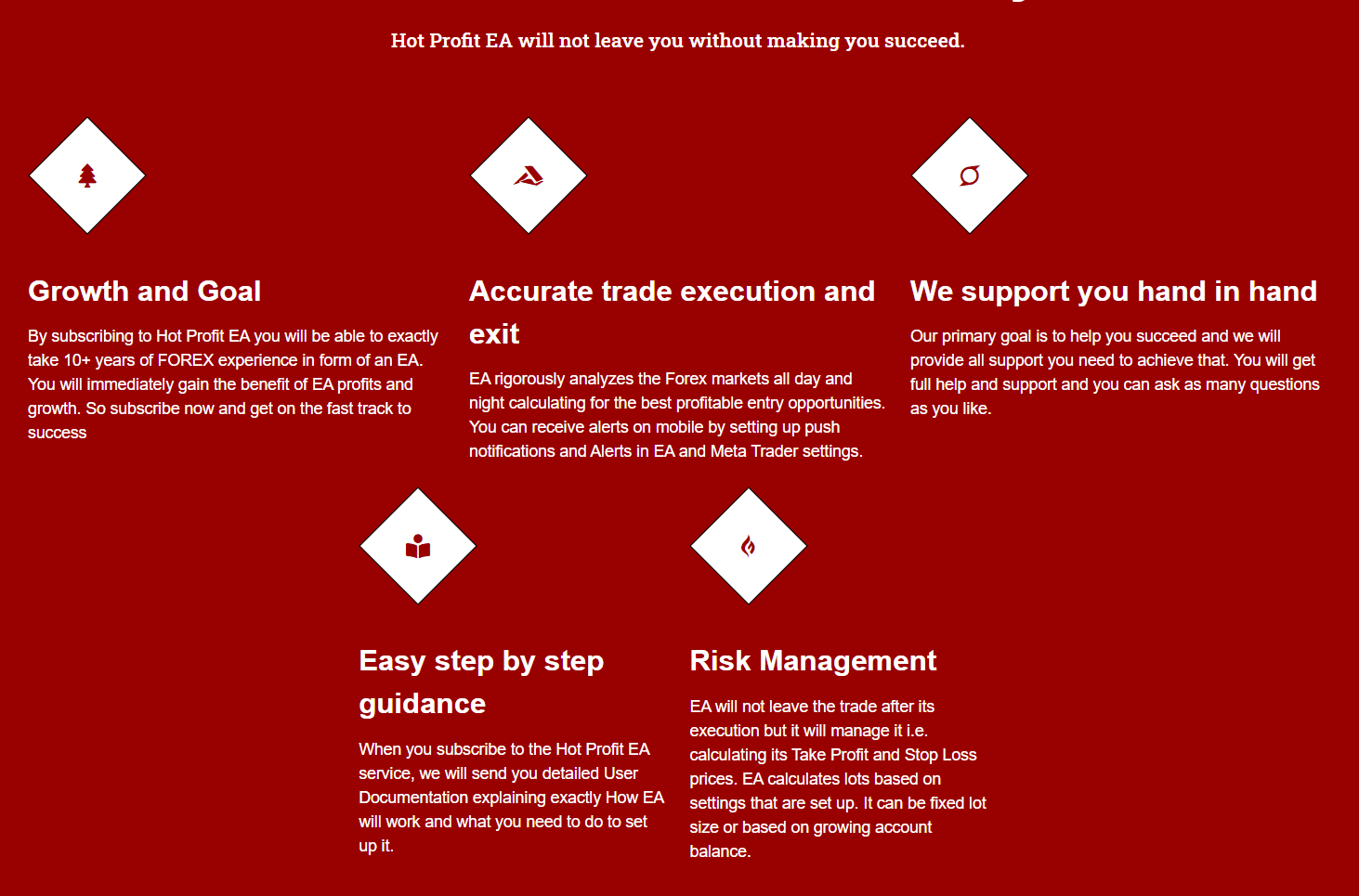 Let's talk about a list of features, settings, and other useful details.
The system acts on the terminal as a fully automatic trading solution. We have to do nothing in addition.
The software was tested based on 19-year tick data from a broker to be sure it's designed well.
The system trades 24/5.
There are three types of notifications: email, mobile, and push.
We can rely on welcome support.
There's a user manual provided.
All orders are covered with placing SL and TP levels.
The robot checks margin, so the orders have enough margin to be on the market.
We can set lot sizes manually.
Pricing & refund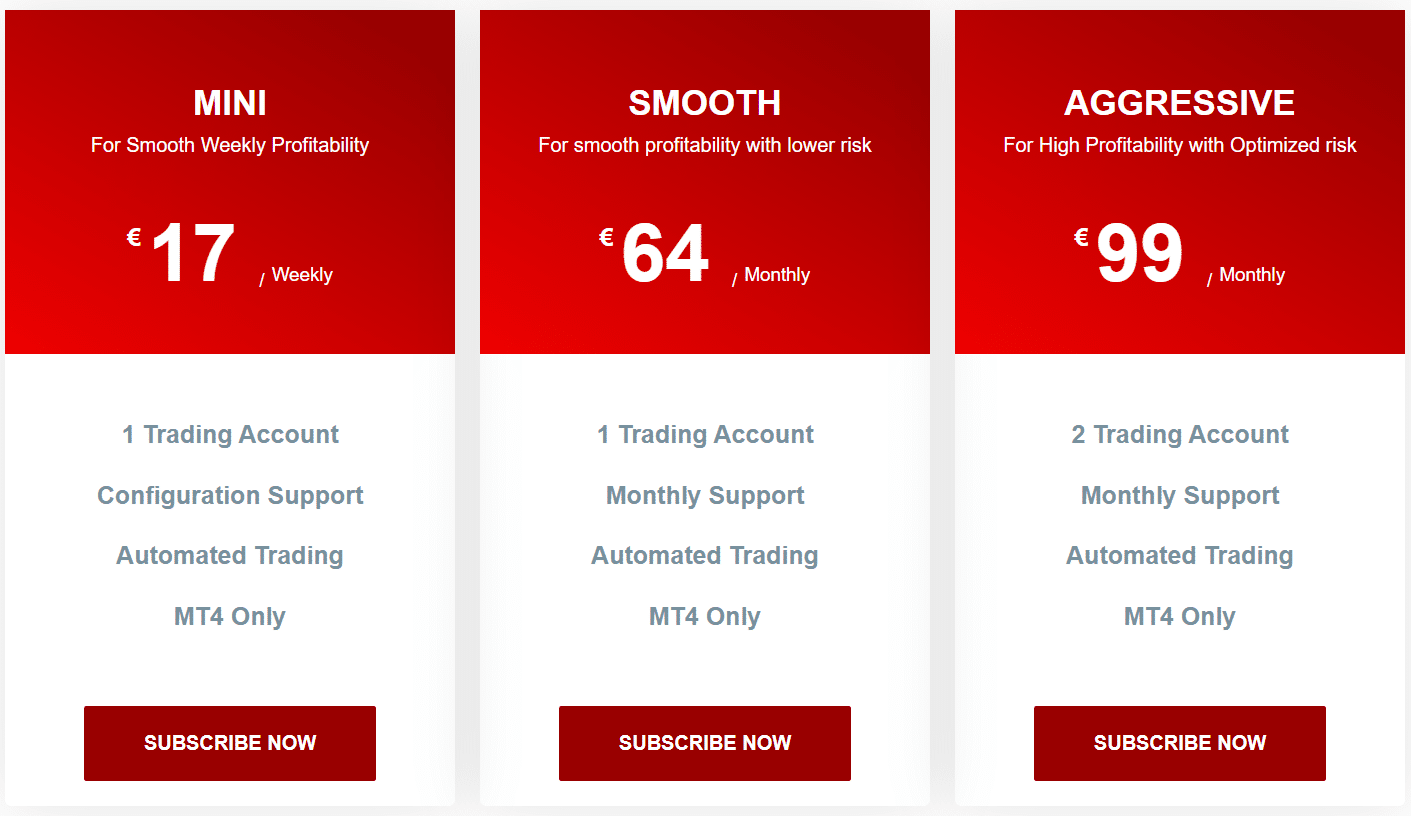 We have three rental options that vary by range. The Mini pack is available for €17 weekly. The Smooth pack with a lower risk can be bought for €64 monthly. The Aggressive pack plus optimized risk can be obtained for €99 monthly. All of them have one real or demo account license, support, automated trading on MT4.
Trading strategy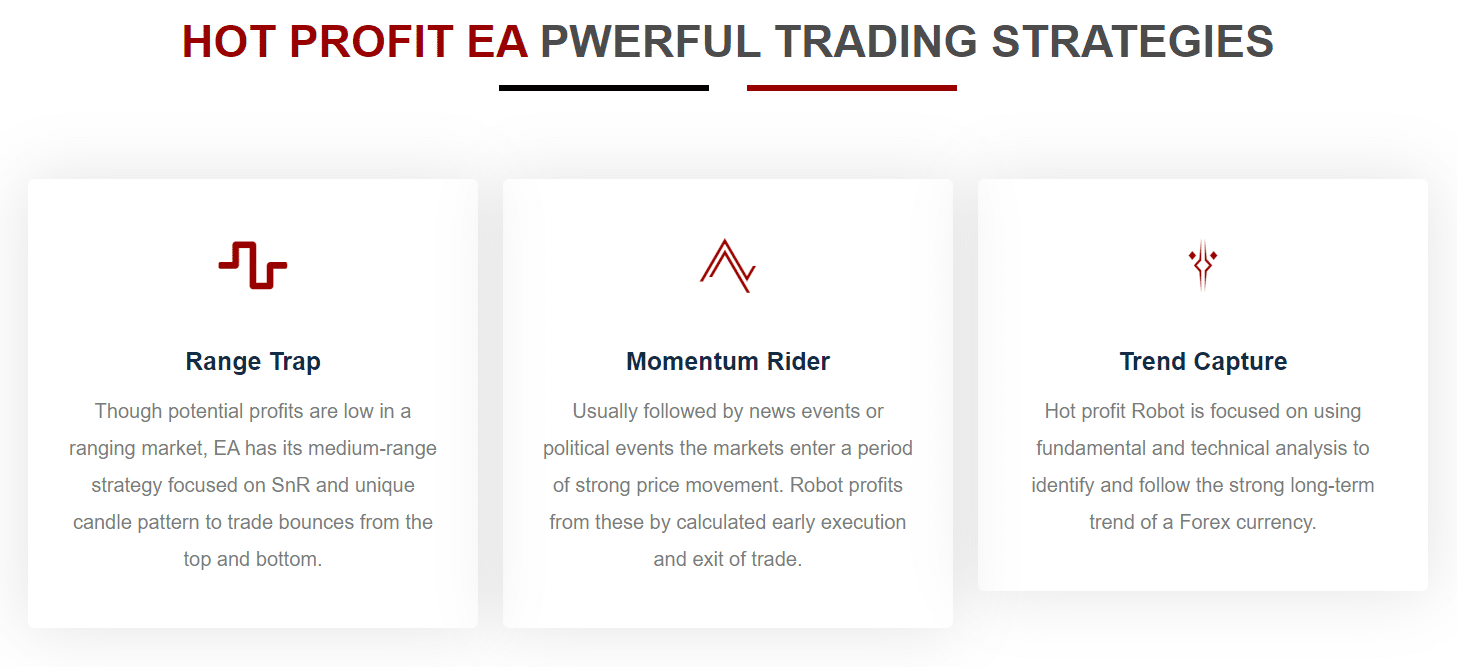 We have a list of strategies with explanations:
Range Trap. "Though potential profits are low in a ranging market, EA has its medium-range strategy focused on SnR and a unique candle pattern to trade bounces from the top and bottom."
Momentum Rider. The advisor trades high-impact news when it occurs.
Trendcapture. "Hot profit Robot is focused on using fundamental and technical analysis to identify and follow the strong long-term trend of a Forex currency."
It works with sixteen cross pairs.
We have no extra intel about the time frames the system works on.
Trading results
The presentation doesn't include backtest reports. It is a huge con because we don't know how the system works on the past broker data.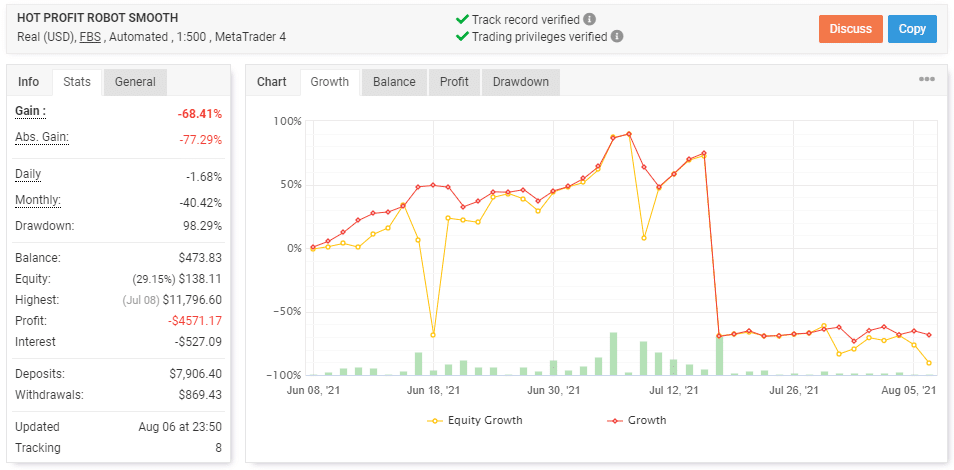 The system works on a blown real USD account run by FBS brokerage with 1:500 leverage. It was set on the MT4 terminal. The account has a verified track record and verified trading privileges. It was created on June 08, 2021, deposited at $7,906.40, and withdrawn at $869.43. Since then, the absolute gain has become -77, 29%. An average monthly gain is -40.42%. The maximum drawdown is 98.29%.
The robot has executed 409 deals with -22.3 pips. An average win is 14.32 pips when an average loss is -30.90 pips. The win rate is 70% for longs and 65% for shorts. An average trade length is 22 hours 18 minutes. The profit factor is 0.78. So, the robot is a scam.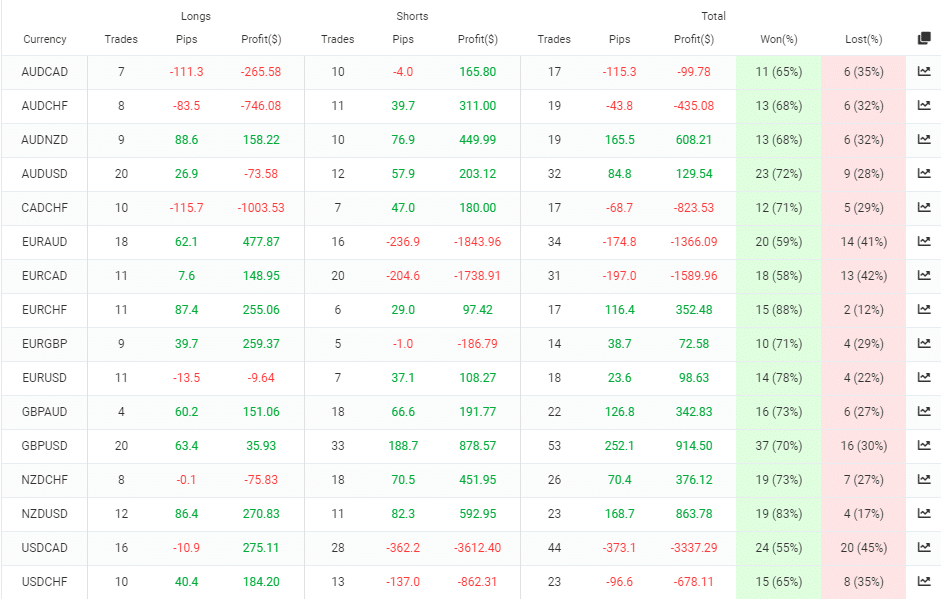 Seven cross pairs brought only losses. It's unprofessional to pick many currency pairs without proper customizations.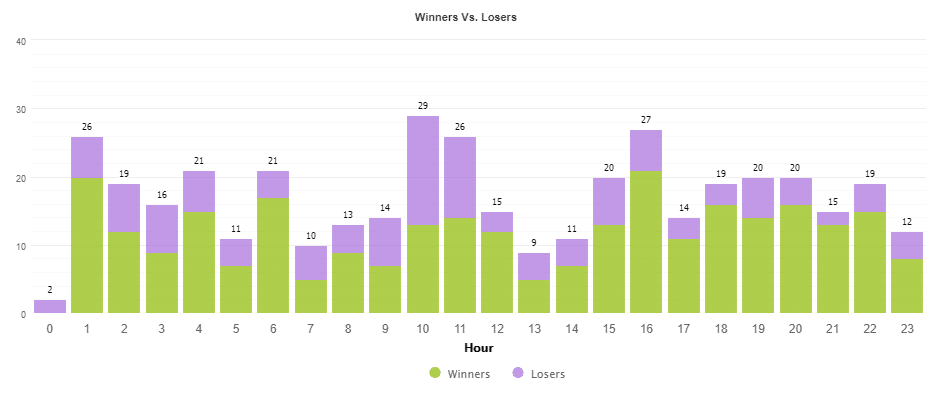 It trades during all trading sessions.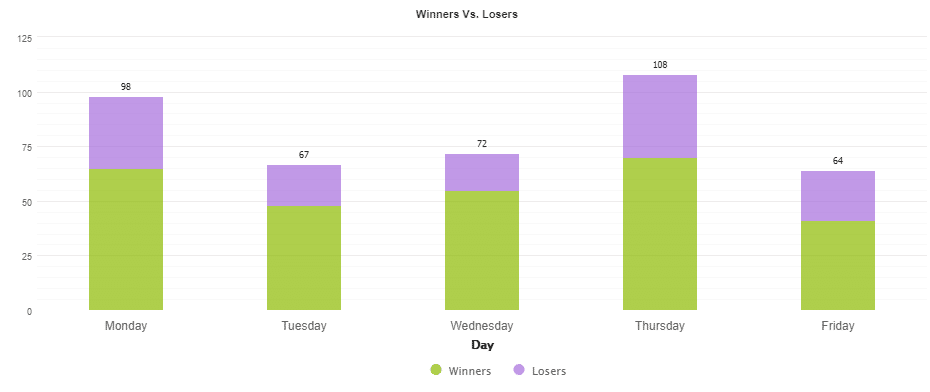 The system opens many trades on Monday.

After account blowing, the risks are insanely high.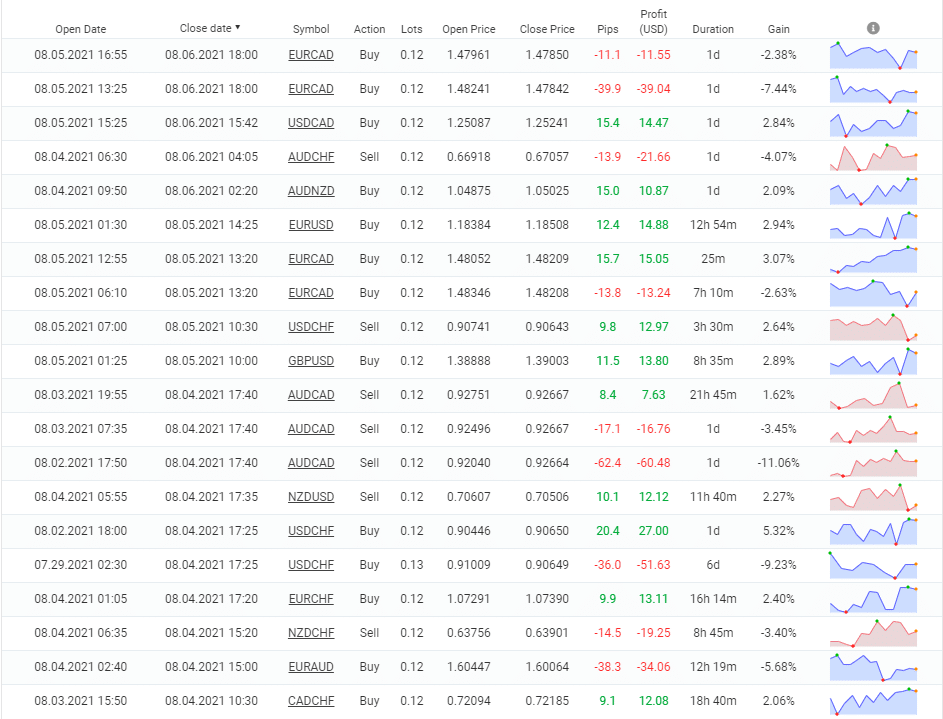 The robot trades with a Grid of orders, and it executes orders with Martingale before crashing.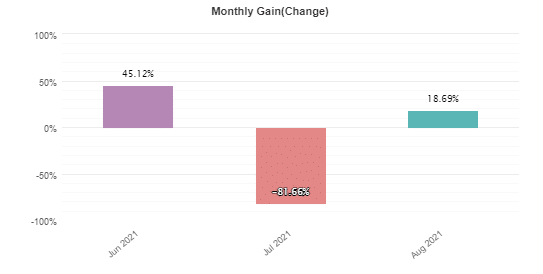 Now, the robot is a scam.
What are the real customers saying about Hot Profit Robot?
We have no testimonials published about the system. We don't need it anyway because the monthly charts talk about themselves.
Other notes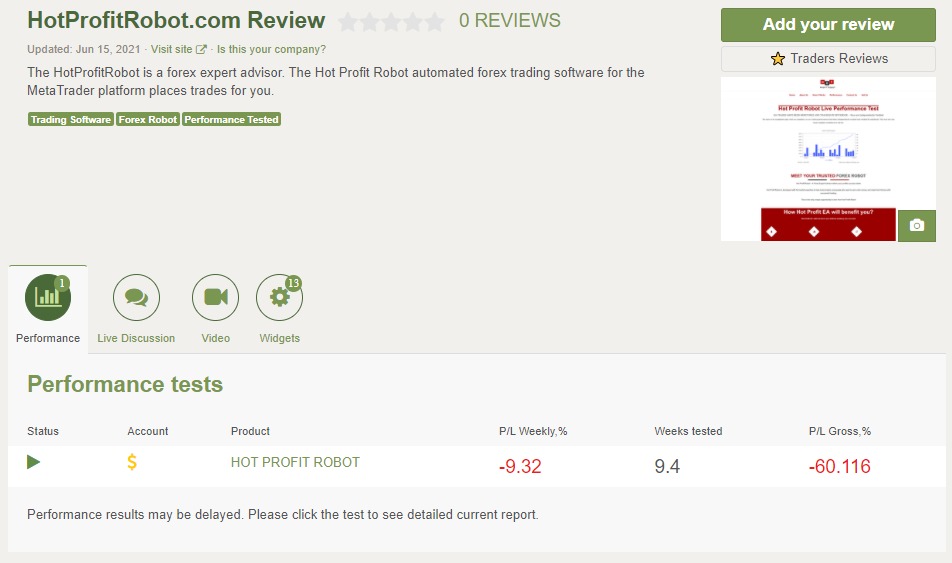 Hot Profit Robot has a page on Forex Peace Army. The only connected system showed that it's done. There are no people's testimonials or rates.
Summary: is Hot Profit Robot a trustworthy robot?
Hot Profit Robot
Hot Profit Robot is a scam system that couldn't handle trading on the $7000 account. It was burnt. So, we can't entrust our account for this advisor to trade.
Hot Profit Robot is a scam system that couldn't handle trading on the $7000 account. It was burnt. So, we can't entrust our account for this advisor to trade.
Like
Rea-account trading results provided
Dislike
No team revealed
Grid and Martingale on the board
No risk advice given
Absolutely horrible trading results
No people's feedback provided