CryptoHero offers various crypto bots that are suitable for trading in different market conditions. It allows traders to test their strategies without any risk on virtual funds. The platform includes backtesting to evaluate the performance of your algorithm using historical data. With the marketplace, developers can earn extra revenue by renting their robots and offering services to new users. To learn more about this platform's prior success, we'll examine many tools and features to see if it matches your requirements.
CryptoHero detailed analysis
CryptoHero is a multi-platform crypto bot that trades automatically and integrates different exchanges so that traders may manage multiple accounts from a unified interface. AI-optimized indicators provide insight into the market's finest opportunities.
How CryptoHero works
The vendor states that CryptoHero is suitable for bull, bear, and range-bound markets. The bots execute various trading strategies such as DCA, long/short strategy, etc. There are several technical indicators like Bollinger Band, RSI, Stoch RSI, EMA, and MACD.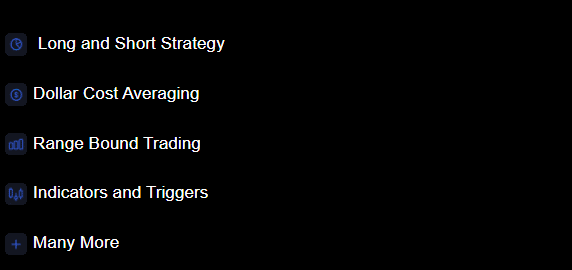 Registration process
Traders can start trading with CryptoHero in the following steps:
Install the software or rent a bot from the marketplace
Select crypto exchange and link API keys
Choose the number of funds
Configure different parameters like entry/exit conditions, strategy, and trading pair
Launch the bot and start trading
Is it easy to use?
CryptoHero enables traders to automate trades from their phones and does not require any coding skills. The bots are based on technical indicators that trade prominent cryptocurrencies like Bitcoin and Ethereum 24 hours a day, 7 days a week.
CryptoHero key highlights
The key highlights of CryptoHero are as follows:
Run a small portfolio with a free basic plan
Rent a bot from the marketplace
A simulated trading account without investing real funds
Support for Web, Android, and IOS
Services offered by CryptoHero
CryptoHero offers various trading bots for different market conditions. A free plan is available for small portfolios with limited features. It provides video lessons about the platform for new traders.
Backtesting
CryptoHero allows backtesting in 6 timeframes 1 day, weekly, monthly, 3 months, 6 months, and a year. It enables you to analyze the past performance of the bot.

Does it have a native token?
CryptoHero does not have its native token as it is an automated trading platform.
CryptoHero user interface
The user interface of CryptoHero is average and supports multiple languages like English, Arabic, Chinese, Tamil, Polish, Hindi, German, and many more. The dashboard of the platform provides essential trading tools.
Is it a good bet for its price?
CryptoHero has three different pricing packages. Basic, Premium, and Professional.
The basic plan is free and compatible with iOS, Android, and the web. It comes with one bot and an unlimited number of connected exchanges.
The premium option costs $13.99 per month or $139.99 per year. It includes access to all bots, including simple, advanced, DCA, and others.
The professional bundle is $29.99 per month or $299 per year and includes 30 active bots, a custom backtest period, and a 5-minute trading frequency.

What exchanges does it support?
CryptoHero supports trading on the following exchanges:
Binance
Coinbase
Binance US
Coinbase Pro
Kraken
Kucoin
Bittrex
Bitfinex
Bitget
Mandala
Felix
Gate.io
Tokocrypto
Crypto.com
IndoDax
Okex
FTX
TradeStation
Huobi
CryptoHero trading assets
CryptoHero does not provide a list of available trading pairs but states that if the required pairs are not available, send an email to the support team.

Are there any fees?
CryptoHero does not take commissions from the profits and charges a fixed monthly fee which is not mentioned. The listing fee of the bots on the marketplace is 30% and a minimum of $20 for the payments.

Withdrawal process
The platform provides no details about the withdrawal process of funds. It strictly advises users not to give withdrawal permission while connecting API keys.
CryptoHero: is it legit?
CryptoHero is supported by Novum Group and it is featured on big platforms like Benzinga, Sourceforge, Yahoo finance, Super crypto news, etc. According to the website it sponsors Coinfest Asia 2022.
What kind of security does CryptoHero offer?
CryptoHero does not disclose your trading data with any crypto exchange without your permission. It trades from your account using API keys and does not require users to deposit crypto with the platform.
Is CryptoHero regulated?
We can not find any info about the regulation of this software on its official website. It integrates with third-party regulated software and does not claim any responsibility for the losses.
Best recommended for: trading on multiple platforms
At CryptoHero, you can trade and manage multiple exchange accounts from one platform. The dashboard shows the trading history and you can also copy the settings of expert traders for a better experience.

CryptoHero customer support
CryptoHero assists its customers through various channels such as Contact form, WhatsApp, email, and Telegram group.

How does CryptoHero's reputation look?
CryptoHero is handled by the Novum group, and the headquarters of the company Novum Global Ventures Pte Ltd, exist in Singapore. It has offices situated in Vietnam, Switzerland, and US. Mr. Christopher Low is the founder of this robot.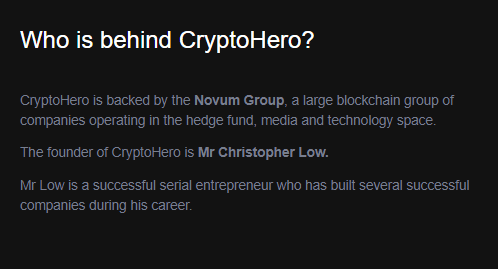 CryptoHero Crypto Bot
CryptoHero
CryptoHero offers fully automated cryptocurrency bots that execute orders based on several strategies. It is relatively new in the crypto market as it was launched in 2020 and it has no performance records on its website. A reputable review site, Trustpilot shows no reviews from past customers.
CryptoHero offers fully automated cryptocurrency bots that execute orders based on several strategies. It is relatively new in the crypto market as it was launched in 2020 and it has no performance records on its website. A reputable review site, Trustpilot shows no reviews from past customers.
The Good
No coding skills are required to configure the strategies
It supports Web, IOs, and Android allowing traders to trade from anywhere at any time
The Bad
The platform lacks verified trading performance and customer feedback
There is no refund policy
It does not provide extensive documentation