AX Trader is a trading solution that was released under the well-known brand–LeapFX. The developers insisted that the system can provide us with as high as 39% of the monthly profit. Let's take a closer look at it.
What is AX Trader?
For your comfort, we have gathered all found details, features, and information about the robot.
The advisor is a fully-automatic trading solution that can open and close orders on a market for us.
It is possible to manage orders on the following pairs EURUSD, GBPUSD, AUDUSD, USDCAD, USDJPY, and USDCHF.
We can work on the MetaTrader 4 platform.
A real monthly profit can be up to 39%.
The advisor can detect news to catch the moments of market extra volatility.
We can get support if we have any questions to ask.
The developers provide us with a user manual in PDF.
There's money-management that calculates SL and TP levels and Entry Point for every open order.
It can work pretty well with default settings. We may note customize them to be profitable.
The system focuses on closing every open trade for profits, catching market moves.
Official AX Trader website
The presentation provides us with some explanations about how the system works. This allows us to understand its features better before getting started. Also, it's nice for the owners to share trading results that convince us that the robot is safe to be used.
How can we use AX Trader?
The system provides us with automatic orders execution under smart money-management. We have to just set it on a terminal and overwatch its performance from time to time.
Pricing & refund
The offer looks familiar. We can rent the system out for $297 annually. If we'd like to buy it we have to pay as much as $497 for a single real account copy. The package includes a 30-day money-back guarantee, a copy of the robot, free updates and upgrades, welcome support, user manual, and advice if needed.
Trading strategy
The system works with Fibonacci levels to understand if the market is trending and in what direction it goes.
We can trade EURUSD, GBPUSD, AUDUSD, USDCAD, USDJPY, and USDCHF.
The time frame wasn't revealed.
By the way, the live trading results of the system have shown that the robot applied a Grid with Martingale combo.
Unfortunately, the presentation isn't featured by any backtest report.
Trading results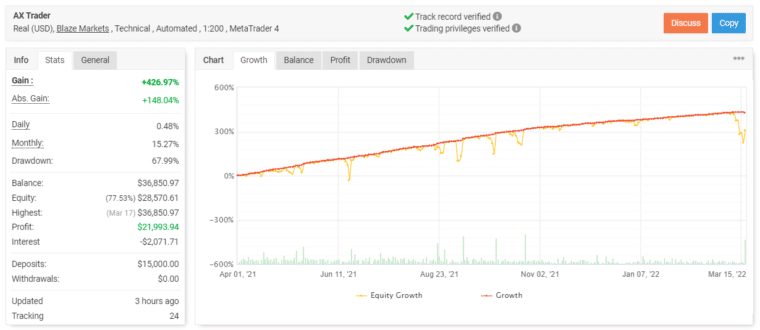 The system works on the Blaze Markets broker house. The account balance is nominated in USD. The advisor uses technical inflator data from MT4 and places orders automatically. The leverage is 1:200. This trading account was created on April 01, 2021 and deposited at $15,000. For less than a year of trading activity the system could grow its total balance to 426.97% that has resulted in over $23K of profit. It looks impressive.

There were 18,889 deals performed and 3,272.8 pips obtained. An average win is 8.14 pips when an average loss is three times deeper -29.19 pips. An average accuracy is 79% for long and 78% for short trading positions. An average trade length is 13 hours and 45 minutes. The profit factor is 1.51. It's just enough to be a good advisor.

AX Trader trades six cross pairs. USDCAD is the most traded (5241 deals) as well as the most profitable ($5479.89) currency pair.

We may note that the core activities happen when the American market opens during the European session.

There should be 268 orders to lose 10% of the balance. So, it's a pretty safe solution to work on the market conservatively.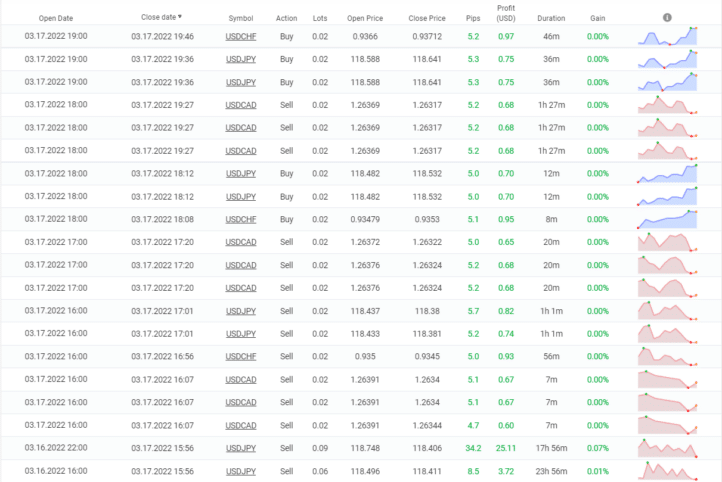 The advisor works with Grids of orders without a fixed lot size.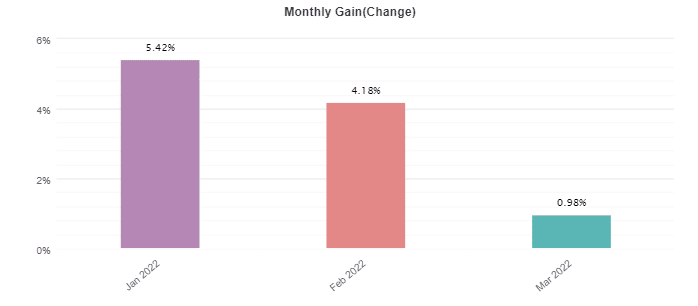 This year looks profitable so far. The first two months were closed with good gains.
What are the real customers saying about AX Trader?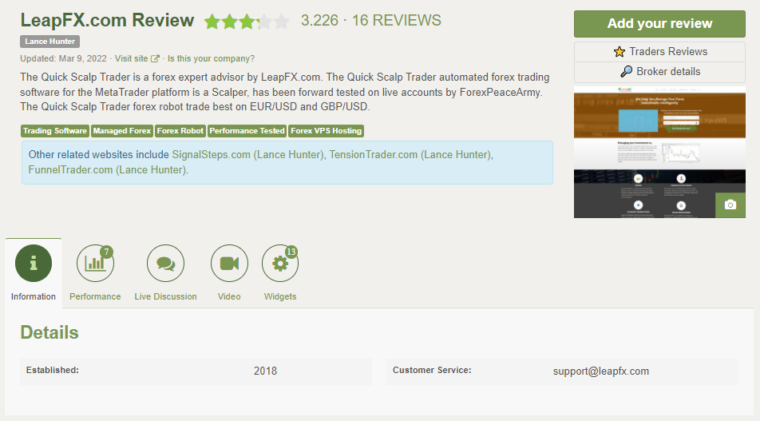 LeapFX created a page on Forex Peace Army. There are 16 reviews written that formed a 3.226 rate. There are no trading accounts connected.

We have a review where the client was happy to use the developers' products because they are profitable.
Other notes
The system performs on the market pretty well. We may note that the last 20 orders were won and they provided significant profits for the robot's owner.
Summary: is AX Trader a trustworthy EA?
Summary: Is AX Trader a Trustworthy EA?
AX Trader is a trading solution that works under real market conditions and closes month after month for profits. The presentation provides us with the general information about the system and it lacks backtest reports. The developers decided to support us with a 30-day refund policy. Also, the company has a good rate of its products on the Forex Peace Army site.
AX Trader doesn't look like a flagship of LeapFX. The system has risky strategies on the board which weren't mentioned at all. The robot has a bit over two months of trading activities. We have absolutely no feedback published. We don't know if the system is that profitable on clients' accounts.
Pros
LeapFX is a veteran company on Forex
Trading results provided
The system is profitable consistently
A refund policy applied
Positive testimonials available on Forex Peace Army
Cons
No risk or money-management advice given
No backtest reports shared
A Grid of orders strategy on the board