FX Premiere provides traders with signals on multiple instruments through their Telegram channel. The company uses various technical indicators for market analysis and offers free access to their service for getting a hint on their performance. In this review we will analyze this product and go through all their benefits and demerits of this trading tool.
What is FX Premiere?
FX Premiere has the following features:
Multiple subscription plans
There is 24/7 live chat support
Various options to pay for their service
Trades available on numerous currency pairs
The company is unclear on the kind of leverage investors require and the broker account they should use to follow their trades.
Official FX Premiere website
The developers detail all the information about their service on their website under multiple tabs. They offer a Forex trading course next to the signals for educating traders.
How can we use FX Premiere?
Traders can use the service with the following steps:
Purchase one of the subscription plans available on the website
Email or text the developers through Telegram. They will also send you a personal email that contains a link to the channel
They will add you to their premium groups
Follow the trades made available on the channel on your account
The developers scan the charts using their respective trading strategies and provide trades through the Telegram channel.
Pricing & refund
The service is available via three different packages. The basic plan will cost you a total of $37/month and comes with 2-15 daily Forex signals.
The standard FX signals cost $97/4 months and come with executions on gold and forex. There is also a free MT 4 indicator included. The premium service comes at $199/12 months and has 8-15 daily trades on Forex, gold, and oil.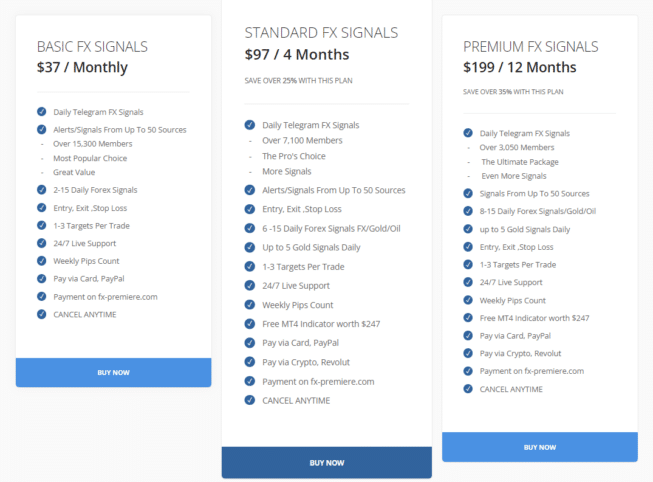 Trading strategy
The providers state that they use technical and fundamental analysis for analyzing the markets. They use Fibonacci retracements, support/resistance levels, Bollinger bands, and moving averages to place their trades. Unfortunately, there are no live records available on Myfxbook that could be used to analyze their strategy for ourselves.
There are no backtesting records available for their signal service. Without proper historical testing, it is not possible to deduce the amount of drawdown and profitability we can expect in the future.
Current performance
The company is also not clear on their live records that could be used to access their current performance. This is a poor approach by the developers that raises many concerns about their performance.
Vendor transparency
FX Premier was started back in 2010 and claims to be a sole intermediate in the Forex signals market. The devs collect signals from over 50 online sources and then provide them to clients. The providers recruit professional traders to analyze and monitor the trades. There is no link to their portfolio or whereabouts.
What are the real customers saying about FX Premiere?
There are 11 reviews present on the Forex Peace Army platform, which gives them a total rating of 1.013. One of the traders states that investors need to reverse their signals to profit. The providers are only guessing on their trades and are advising participants to use larger lot sizes resulting in significant added risk.

Summary: is FX Premiere a trustworthy signal?
FX Premiere
FX Premiere is not transparent on their backtesting and live records. The company does not provide clear information on their portfolios and has poor reviews on the Forex Peace Army.
FX Premiere is not transparent on their backtesting and live records. The company does not provide clear information on their portfolios and has poor reviews on the Forex Peace Army.
Like
Multiple subscription packages
Dislike
No live trading results
No vendor transparency
There are no backtesting records