DYNASCALP robot does not use dangerous strategies such as grid and martingale and comes with an inbuilt news filter to avoid trading during volatile market conditions. The robot is fully automated and works on multiple currency pairs. Let us see if the performance records provided by the company are enough for us to consider the investment.
What is DYNASCALP?
DYNASCALP has the following features:
It has an inbuilt news filter.
It can trade on multiple currency pairs.
It is fully automated and beginner-friendly.
It closes all the trades on the same day.
It is compatible with the MT 4 platform.
There is no recommendation available on the leverage traders have to employ to use the algorithm. The company uses a margin of 1:500 on their live records.
Official DYNASCALP website
The product is available on the company's webpage, where they list all the details about the algorithm under a single page. Leap FX is the company that stands behind this trading tool. The firm is not transparent on their trading experience and the names of traders behind the program.
How can we use DYNASCALP?
You can download the product after receiving it on your email id. This is how it will work:
Place the robot in the experts' folder of the MT4.
Enable the auto trading button.
Attach the EA onto the charts to start trading.
Pricing & refund
The robot is only available for $247, which comes with best settings and free updates. Traders have a 30 day money back guarantee with the program.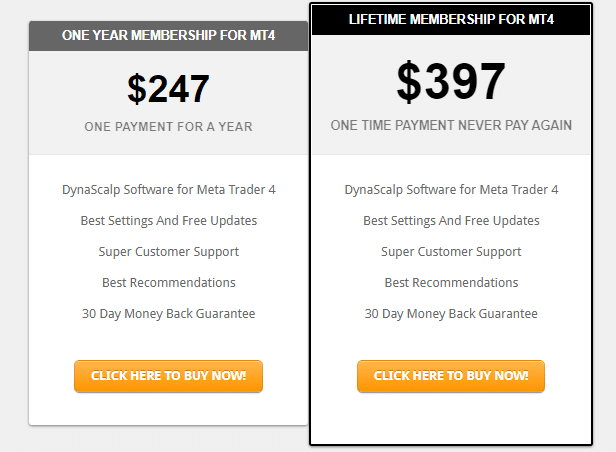 Trading strategy
The developer states that the EA employs a night scalping strategy with an asset weight management system. They state that it does not use grid and martingale strategies. It can trade on multiple currency pairs. We can see through Myfxbook records that the robot places a high stop loss and small take profit for trading. It closes out positions before the price reaches the designated exit point.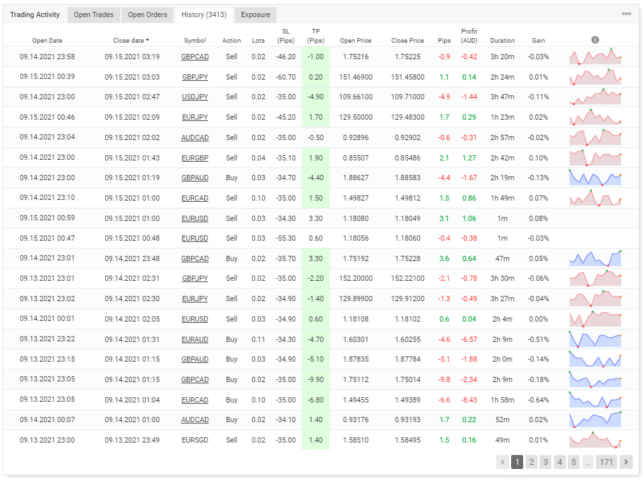 Backtesting results are available for multiple currency pairs. For USDJPY, the robot had a maximum drawdown of 21.69% and turned an initial deposit of $10000 into $6803.32. It had a winning rate of 71.86% with a profit factor of 1.85. The average amount of profitable trades was $13.76, while the average amount of losing deals was -$18.96. There were a total of 1496 trades executed during this period.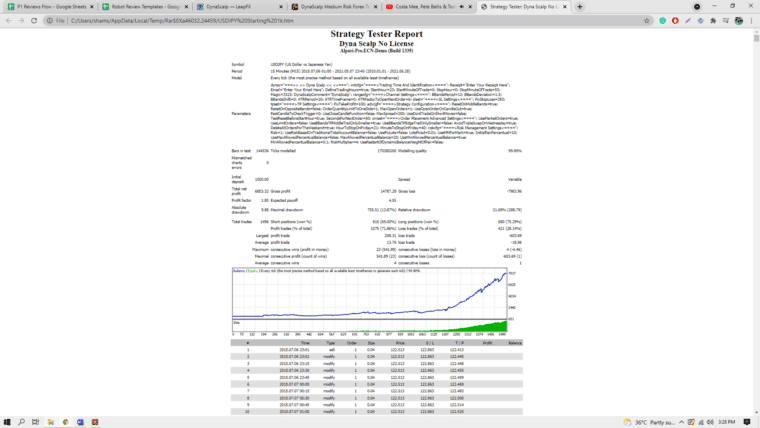 Current performance
Live trading results are available on Myfxbook, which show performance from June 20, 2020, till the current date. The robot had an average monthly gain of 15.03%, with a drawdown of 17.31%. There were 3478 trades in total, with 70.66 lots traded. The expert advisor traded with a winning rate of 72% with a profit factor of 1.76. The average winning trade was $0.75, while the worst one was -$1.10. The developer trades with an account value of $545.77 only.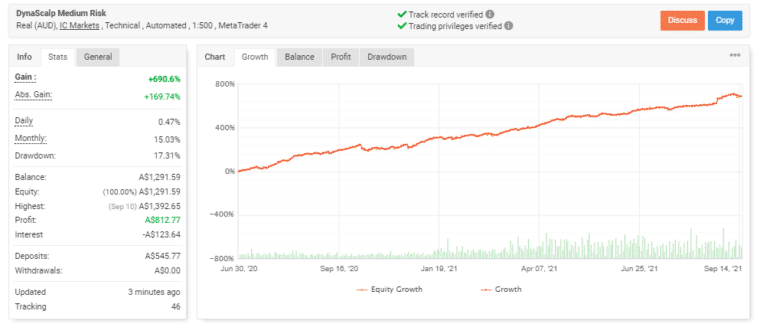 What are the real customers saying about Dyna Scalp?
Customer review on Forex Peace Army gives Leap FX a rating of 3.152 for a total of 16 reviews. There are no customer reviews available for DYNASCLP. A customer states that the company is asking everyone to write good reviews for their systems.

Summary: is DYNASCALP a trustworthy robot?
DYNASCALP
DYNASCALP is not a trustworthy system as it places a high stop-loss which can be hit anytime. This can lead to a high amount of loss at any time.
DYNASCALP is not a trustworthy system as it places a high stop-loss which can be hit anytime. This can lead to a high amount of loss at any time.
Like
30-day money-back guarantee
Dislike
The robot uses a high stop loss
It does not explain the trading strategy properly
There is no transparency on developers