GALILEO FX is advertised as automated trading software, equipped with 60 optimized settings, full-time customer support, and a detailed installation guide. Traders can trade with any deposit they want on either MT4 or MT5 brokers. Galileo promises its trades a high accuracy of 96, 46% in both 'bearish and bullish market conditions. We are told that the robot was tested on 12 different brokers, using different settings and trading during different market conditions.
Our first conclusion is that the system looks promising, but without a detailed analysis, we cannot say for sure. Therefore, our experts have conducted a thorough analysis of Galileo FX and unbiased analysis of its trading results to help you decide whether it is a worthwhile investment decision.
What is GALILEO FX?
GALILEO is a 100% automated trading software that promises to provide high trading accuracy of over 96%. This FX ATS includes the following features:
Constantly analyses the market to find the best Entry and Exit trading positions
Includes jumping stops and break events features
It can trade many currency pairs at once
It comes with a detailed user manual of how to set up the robot
It is sold with optimized default settings
Is compatible with any brokerage
Traders can use different lot sizes while trading with Galileo FX
It can work on Real as well as Demo accounts
Suits both experienced traders as well as those who are newbies in Forex trading
Supports Vista, Windows 7, Windows 8/8.1, and Windows 10 operating systems
1Mbps or higher Internet connection is recommended
It can be run alone or together with the other trading systems (robots)
Dedicated customer support and free lifetime updates are included
Easy installation that takes just 5 minutes
Official GALILEO FX Website
On the official Galileo FX website, the developer makes a detailed and professional presentation. We have a detailed product description and a video showing us how the system performs. We are also provided with videos showing backtesting results. There also is a FAQ page, pricing details, customer testimonials, and a link to a Facebook group provided.
How Can We Use GALILEO FX?
The system trades fully automatically on MT4 or MT5 terminal
It can work on M15, M5, or H1 timeframes
We can set the number of signals so that the robot can place buy and sell orders automatically
Although it is an automated trading system, traders are free to close their deals manually, letting the algorithm handle the opening of trades
Has over 60 optimized settings that allow you to adapt the system to different market conditions
It has SL and TP features
Supports mini, micro, and standard size accounts
Pricing & Refund
There are 3 packages offered: Personal, Plus, and Pro. The personal package is sold for €202 and promises a maximum of 1000 USD per month. The Plus package is available for €404 and offers up to 5000 USD per month. The Pro pack comes for €910 and offers unlimited profits.

Nobody can guarantee you profits. Many factors can influence your final income. Those who guarantee you monthly incomes are scams. In addition to this, the prices the devs sell their packages are too high. Competitive systems in the Forex market are sold for a much lower cost.
A money-back guarantee is not offered for this product:

Trading Strategy
Trading strategy information provided by the vendor looks odd. We are told that the robot trades on bullish and bearish signals the frequency of which you can customize. Using this type of trading approach for trading is something of a norm, and it does not explain what type of trading strategy the robot uses while analyzing the Forex market and finding the best trading opportunities. The absence of this sort of important information is a red flag for Galileo FX.
We are provided with several posts of backtesting results performed on ETC/USD, BTC/USD, XAU/USD, EUR/GBP, and XAU/USD. These reports are shown in videos, displaying a step-by-step process of placing orders.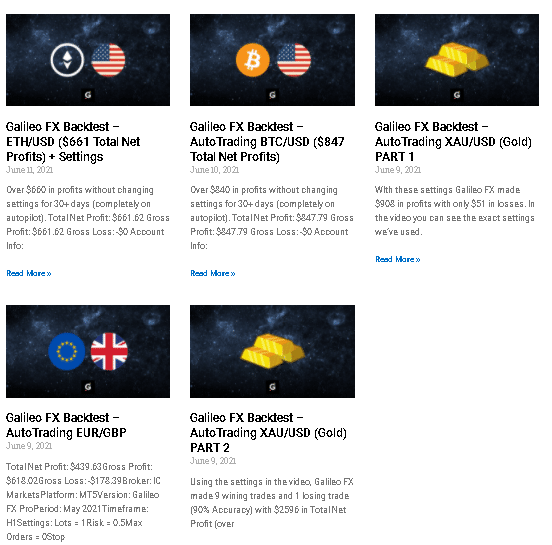 Let's analyze EUR/GBP backtest. The test started on May 1, 2021, and ended on May 31, 2021. It used the H1 timeframe and was run on the MT5 platform. The profit factor was 3, 45. The history quality was 48%. There were 480 bars traded. The initial deposit was $10 00. The total net profit was 439, 63 dollars. The maximal drawdown was 0, 69%.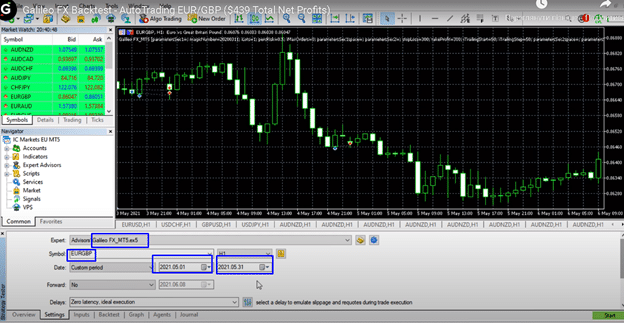 There were 23 trades performed, out of which only 6 trades were won, which represents a win rate of 26, 09%. The win rate for the short trading position was 38, 46%, and 10% for Long trading positions. It looks sad.

It traded during the Asian, European, and USA trading sessions: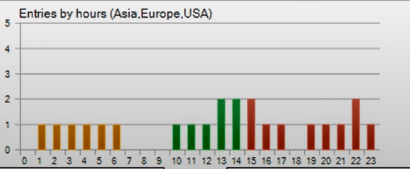 The backtesting results showed poor trading performance of this trading system and a low accuracy rate.
Trading Results
Although the devs mention myfxbook results, they fail to provide them on their website. We have only backtesting results and no live trading results. There was no proof provided that could make us sure that the system trades with 96, 46% accuracy. Without live trading results, the vendor's aggressive claims are just words of empty meaning.
What Customers Say
The website openly shows the customer reviews on TrustPilot which are super positive and rate Galileo FX with an excellent rating. It looks like the dev writes these reviews himself.

We've also found a Galileo FX page on Forex Peace Army. The customer reviews we see there are negative. Two customer feedback indicate that the Galileo system performs terribly and that the devs are scamming their customers.

We have also seen the following statement 'A large number of fake and highly suspicious positive reviews have been submitted for GalileoFX', which means that the dev also tried to manipulate customer reviews here, but, as you can see, unsuccessfully.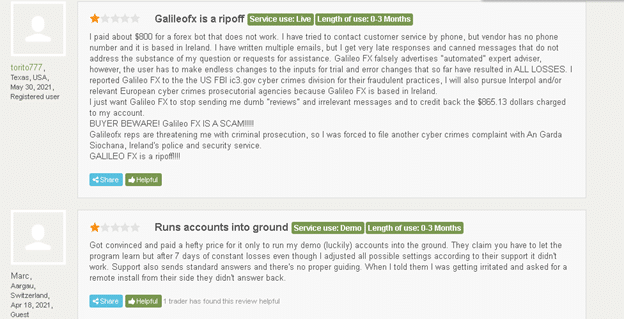 Customers claim that GalileoFX is not the company to rely on, and compare them with 'ripoffs'.
What We Like and What We Dislike
| | |
| --- | --- |
| Like | Dislike |
| Backtesting reports provided | Too high pricing |
| | Undisclosed trading approach |
| | Poor backtesting results |
| | Fake customer reviews on Trustpilot |
| | Negative customer reviews on FPA |
| | Lack of vendor transparency |
| | No verified trading results shared |
| | No money-back-guarantee provided |
Summary: Is GALILEO FX a Trustworthy Trading System?
Galileo FX
No, we don't think so. Many factors are indicating that it is a scam service aimed to steal our money and ruin our trading accounts. We do not recommend Galileo FX. Stay away from this trading system.
No, we don't think so. Many factors are indicating that it is a scam service aimed to steal our money and ruin our trading accounts. We do not recommend Galileo FX. Stay away from this trading system.