SIEA Zen comes with a built-in news filter and swap management to have a better edge over the markets. It comes with three different versions that differ on the type of drawdown and profitability. Our article will discuss the features of the algorithm and see if it is profitable or not.
What is SIEA Zen?
SIEA Zen has the following features:
It has a built-in news filter that allows it to avoid volatile market conditions
It has the ability to trade all 28 currency pairs with proper risk management
Three different modes are available to choose from
The developer does not provide any information on the leverage that must be used. There is also no recommendation on the minimum deposit that the algorithm can work with. The robot can trade on 28 currency pairs. Traders do not have to attach them to separate charts. All you need to do is to place the currencies you trade on a one chart.
Official SIEA Zen website
The product is present through the MQL 5 community, where all the information is available on a single page. Daniel Stein is the author of the product who resides in Germany. He has 15 products present in the marketplace and a total of 9 signals. He has more than seven years of experience, however, there are no qualification certificates that can verify this.
How can we use SIEA Zen?
You can download the product after renting it from the MQL 5 marketplace. It will be present in the market section of the MetaTrader 5 platform. Place it on any chart within the MT 5 platform. Traders will also have to add volume data and news module URLs in the terminal properties.
Pricing & refund
The robot is only available through a six-month or one-year rent. The fees are $299 and $499, respectively. There is no money-back guarantee.
Trading strategy
The developer does not share the trading strategy of the expert advisor, which raises many red flags over the genuineness of the product. There are only five trades present on the history at Myfxbook records, which is insufficient to provide any conclusion about the strategy.
Backtesting results are available for an unknown currency pair from October 1, 2018 till May 31, 2021. The developer presents backtesting results by showing multiple images, and there is no detailed statement available which raises more red flags. The robot had a maximum drawdown of 6.05%. It had a winning rate of 68.74% with a profit factor of 2.80. The average amount of profitable trades was $354.57, while the average amount of losing deals was -$278.06. There were a total of 437 trades executed during this period.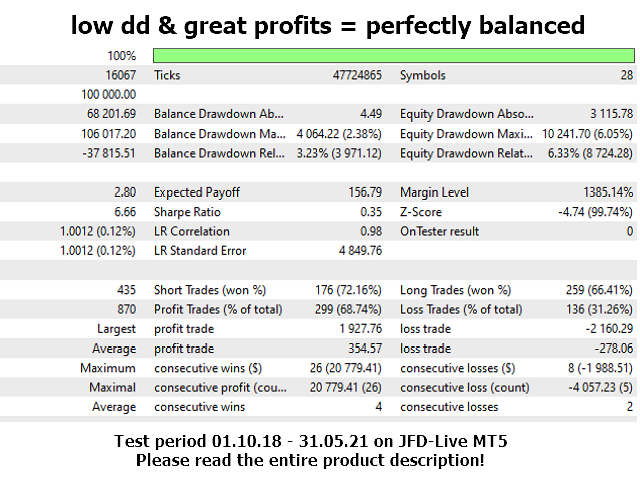 Current performance
Live trading results are available on Myfxbook, which show performance from July 12, 2021, till July 29, 2021. The robot had an average monthly gain of 0.46%, with a drawdown of 0.35%. There were four trades in total, with 0.26 lots traded. The expert advisor traded with a winning rate of 50% with a profit factor of 2.44. The best trade was 50.87 Euros, while the worst one was -21.68 Euros. The duration of the results is too low to give us any conclusion of profitability.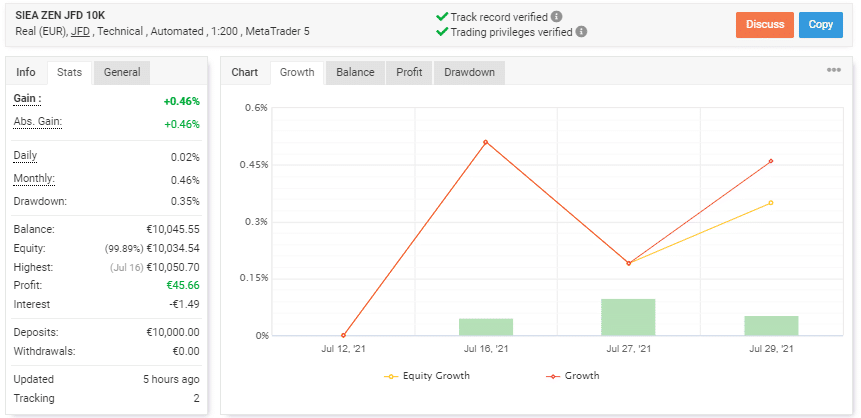 What are the real customers saying about SIEA Zen?
Customer reviews are available at the MQL 5 community, which shows only two testimonials. Traders complain about no long-term results available and little profitability on trades.

Summary: Is SIEA Zen a trustworthy robot?
SIEA Zen
SIEA Zen does not provide trading results for an extensive duration. There are no detailed backtesting results available which make it a poor choice for investment.
SIEA Zen does not provide trading results for an extensive duration. There are no detailed backtesting results available which make it a poor choice for investment.
Like
Customer support is available readily
Dislike
Live results are for a short duration
Does not explain the trading strategy
No proper backtesting results provided
No money refund