The main motto we see on unbeatableea.com is that this is the 'Forex Robot And Expert Advisor That Gives You More!' The devs behind this FX trading tool believe this is an 'unbeatable EA' that 'promises unbeatable performance'. This EA is market adaptive and does not keep trades open longer than 24 hours. They claim that thanks to fast order speed, position-sizing, quick support, and visible SL and TP we will be able to grow our account size with only 100 dollars on our account balance.
Mostly every developer wants us to click on the buy button and start trading with their EA. However, we cannot let ourselves or our readers make a wrong investment decision. That is the reason for today's Unbeatable EA review.
What Is Unbeatable EA?
Unbeatable EA is a trading solution with a brief and poorly organized presentation. The developer provides us with a short list of explanations of what is behind this Forex tool:
The system is easy to install and download
It can automatically update itself n machine learning principles
The system can adjust to different market conditions
The EA does not require human interference as it is a fully automated tool
It was designed to save our time and provide us with more profitable and less losing deals
Being an automated tool, it helps traders to avoid stress caused by a human factor during manual trading
We can purchase EA and Forex Robot (trading tools). The devs failed to explain to us what they mean
The system was well-tested on all currency pairs before it became accessible to the public
All the orders are closed within 24 hours
The advisor does not use Martingale in trading
It places fixed and visible Stop Loss and Take Profit levels
The expert advisor does not apply the Hedge trading approach
It has a fast execution speed
We can rely on quick customer support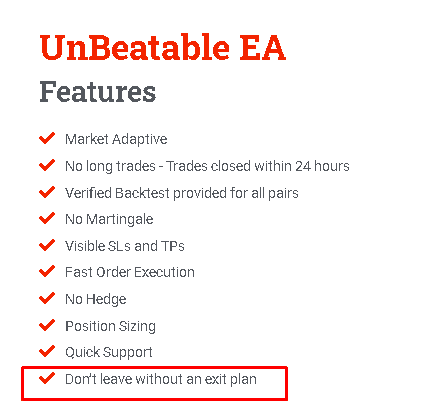 We have no idea what the last listed by the vendor feature means
Official Unbeatable EA Website
The official Unbeatable EA website provides thorough the key benefits, live trading results, backtesting reports, trading requirements, pricing details, testimonials, and contact details to get in touch with support. The presentation is short and does not contain information about the trading strategy the EA applies in trading.
The team behind this EA is unknown. They do not introduce us to their team nor do they provide an address for their corporate headquarters. Due to this, we can't know if they have ample experience in the FX market. To increase the confidence traders should have in their products, vendors should provide this sort of important information on their websites. According to a WHOIS search, we can see that their server is located in California, so the devs are most likely located in this region too.
How Does Unbeatable EA Work in Metatrader Terminal?
According to the vendor, for a smooth trading experience we have to follow the next requirements:
Use VPS service for profitable trading
Trade on MetaTrader account
Have at least $100 of deposit
The developers recommend we use HotForex or FBS brokers
Recommended account types are Zero Spread, Standard, and ECN
The system works fully automatically on the terminal
The robot trades on M15 timeframe
To know how much money we need to invest to get the desired result, the devs provide a special formula on their website:

Pricing & Refund
There are 2 options provided. One is subscription-based and requires you to pay 110 USD monthly. It comes with a 7-day free trial, customer support, one real, and one demo account. The second requires 30% commissions from profitable trades. You can trade with RoboForex, HotForex, Forextime, IC Markets. It does not require monthly or advance payment.
Trading Strategy
The dev covers very little to no information about the trading approach and methodology that stand behind this expert advisor. The one thing we know is that the robot does not use Martingale and Hedge and has a fast order execution keeping deals open for no more than 24 hours. According to the information we see on their website, this robot works on a market adaptive method. Only short traders are executed with visible TPs and SLs. The vendor tells us nothing about the trading approach used or an explanation of the working method, which is sad.
He shares backtesting results for 7 currency pairs: GBPUSD, USDCAD, GBPJPY, EURUSD, EURJPY, CADJPY, and AUDJPY. Providing these images the vendor wants us to show that the robot trades with a low drawdown which does not exceed more than 15, 29%. The timeframe chosen was M15 and the deposit for these backtests was only $100. The maximal total net profit when trading GBPUSD currency pair was $7787.7.
However, the backtesting results we see on the dev's website are not those we used to see. They are simple images that cannot be verified. They lack important information such as the duration of the test, the profit factor, profitability, and more. Lack of transparency makes the report ineffective and unreliable.
Trading Results
To demonstrate the performance of Unbeatable EA the dev decided to create a trading account on myfxbook. Oddly, the growth chart shows a trading activity from June 25 to July 9, 2021. The account was active for only 1 week. What happened? Why did the dev stop trading on this account? Why didn't he even bother to update it? Let's figure it out.
The account was deposited at $99. It traded under FBS brokerage with 1:500 leverage on MT4. Its daily gain was 1, 34% with an average monthly gain of 57, 07% and a peak drawdown of 12, 71%. For 1 week of trading, the EA could generate $56 of profit.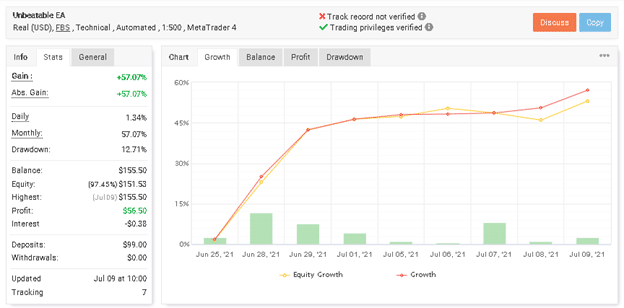 The average win and the average loss were almost the same: $1.30 and -$1.26, meaning that the risk/reward ratio was 1:1. The average win rate was 78% with a profit factor of 3, 63. The average trade frequency was 6 hours and a half. It traded 8 currency pairs with the most frequently traded GBPUSD (18 trades). The least productive was AUDJPY – 13 deals and only $0, 32 of profit.

The advisor traded with a Grid strategy and a fixed lot size.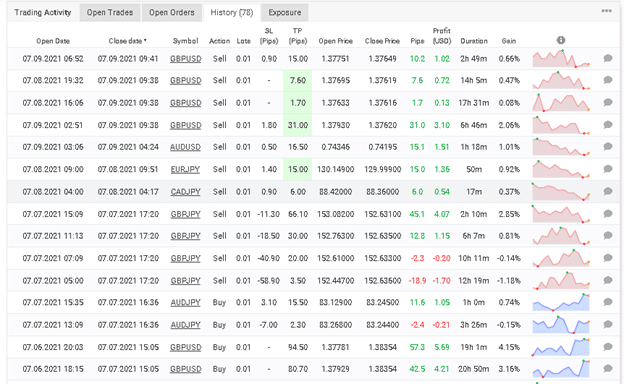 What Are the Real Customers Saying About Unbeatable EA?
There is a page for Uneatable EA created on FPA. Unfortunately, there is no customer review written.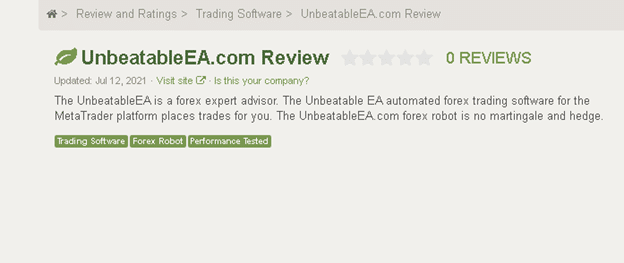 Summary: Is Unbeatable EA a Truthworthy EA?
Unbeatable EA
This is a new trading system that was created a few weeks ago. For no reason, its trading results were stopped after 1 week of trading activity. Backtesting reports are simple images that could easily be manipulated. The page on FPA shows no customer review. Summing everything up, we have no reason to trust this no-name developer.
This is a new trading system that was created a few weeks ago. For no reason, its trading results were stopped after 1 week of trading activity. Backtesting reports are simple images that could easily be manipulated. The page on FPA shows no customer review. Summing everything up, we have no reason to trust this no-name developer.
Like
Backtest reports
Verified results
Money-back guarantee
Dislike
High pricing
There was no trading activity since July 9
The robot is too young to invest in
We do not know who stands behind this trading system
No trading strategy information